Federal authorities have arrested one person near Plantation, Florida, amid a nationwide investigation into a dozen suspicious packages that were sent to prominent Democrats nationwide.
A suspicious package addressed to U.S. Senator Cory Booker (D-NJ) was intercepted Friday at the Opa-locka mail facility in Florida, and another addressed to former Director of National Intelligence James Clapper was located in Midtown Manhattan.
The FBI says these were the eleventh and twelfth suspicious packages recovered this week. The packages look similar to others that have been found.
Clapper tells the Associated Press he is not surprised he was targeted.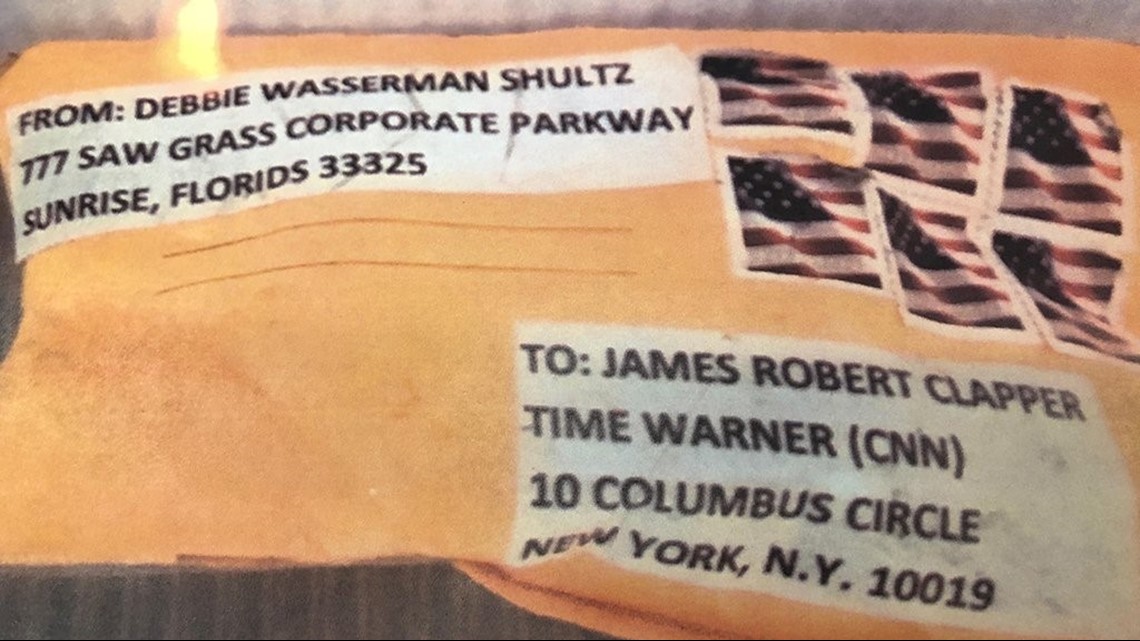 Much of the overall federal investigation appears to have shifted to Florida, law enforcement sources with knowledge of the case told CBS News. Investigators have been scrutinizing camera footage at the self-mailing kiosk machines at the Opa-locka building. They've also been combing through surveillance footage at both that site and nearby businesses in South Florida.
"A lot of arrows pointing to Florida," an anonymous official told CBS News.
A Miami-Dade police bomb squad and K-9 officers helped authorities search the Opa-locka facility Thursday amid reports it might be where some of the suspicious packages originated.
The packages have return addresses of Florida U.S. Rep. Debbie Wasserman Shultz, who is the former chairwoman of the Democratic National Committee.
Authorities are still trying to figure out if the packages are actually meant to explode or just cause fear.
Whoever is sending the devices has been targeting prominent Democrats, many of whom have been publicly criticized by President Donald Trump. Packages have been addressed to everyone from former President Barack Obama to former Secretary of State Hillary Clinton.
The White House has pushed back against claims made on cable news that the president's rhetoric may have contributed to the mindset of whoever is sending the packages. On Friday morning, President Trump tweeted that CNN has been blaming him for the incidents. CNN was evacuated this week -- when one of the packages, addressed to former CIA Director John Brennan, arrived at the network's New York studios.
So far, nobody has been hurt, and none of the packages have detonated.
Below is a list of where the packages have been sent so far.
Hillary Clinton's home in Westchester County, New York
Former President Barack Obama's residence in Washington
Former CIA Director John Brennan, sent to CNN's offices in New York City
California Democratic Rep. Maxine Waters
Florida's Democratic Rep. Debbie Wasserman Schultz (a package discovered at her office was addressed to former U.S. Attorney General Eric Holder)
Billionaire George Soros, in the mailbox at his home in Bedford, New York
Former Vice President Joe Biden; two packages were intercepted at Delaware postal facilities
Robert De Niro's offices in New York
New Jersey Democratic Senator Cory Booker
Former Director of National Intelligence James Clapper
Law enforcement is warning the public to keep an eye out for more suspicious packages that could be in the mail system.