TAMPA, Fla. -- The University of South Florida could have a new football stadium open on-campus by 2022 but it shouldn't, according to the draft report of a feasibility study just completed by outside consultants.
The report, drafted by Convention, Sports, and Leisure International (CSL International) and obtained Monday by 10Investigates through a public records request, suggests USF should prioritize fundraising and planning for its new $40 million Football Center before embarking on the much larger task of funding a new stadium.
Alumni and students have fantasized about the possibility of a new on-campus football stadium for years. But the study reported USF fans opposed the kind of stadium the university could afford right now, likely a facility in the $120 million range, similar in quality to the stadium at FAU.
The report completely dismissed a stadium similar to UCF's, which USF fans likened to "a high school stadium."
Instead, the study suggested the Bulls remain at Raymond James Stadium until they had additional revenues to fund a state-of-the-art, 35,000-seat stadium with multiple premium-seating options, akin to Colorado State's $240 million football stadium.
"Its feasible (now) if we're willing to settle for a lesser product," said new USF Athletic Director Michael Kelly upon reviewing the report. "But the feedback says if we're going to do it, we do it right...go big or go home.
"There are a lot of schools that play football at this level that don't have anything close to Raymond James Stadium."
Kelly wouldn't put a timetable on when the school could possibly move forward on an on-campus stadium but suggested it was not going to be anytime soon. He stressed the athletics department had a lot of work ahead of it on fundraising for the Football Center and creating new revenues that could help fund a new stadium.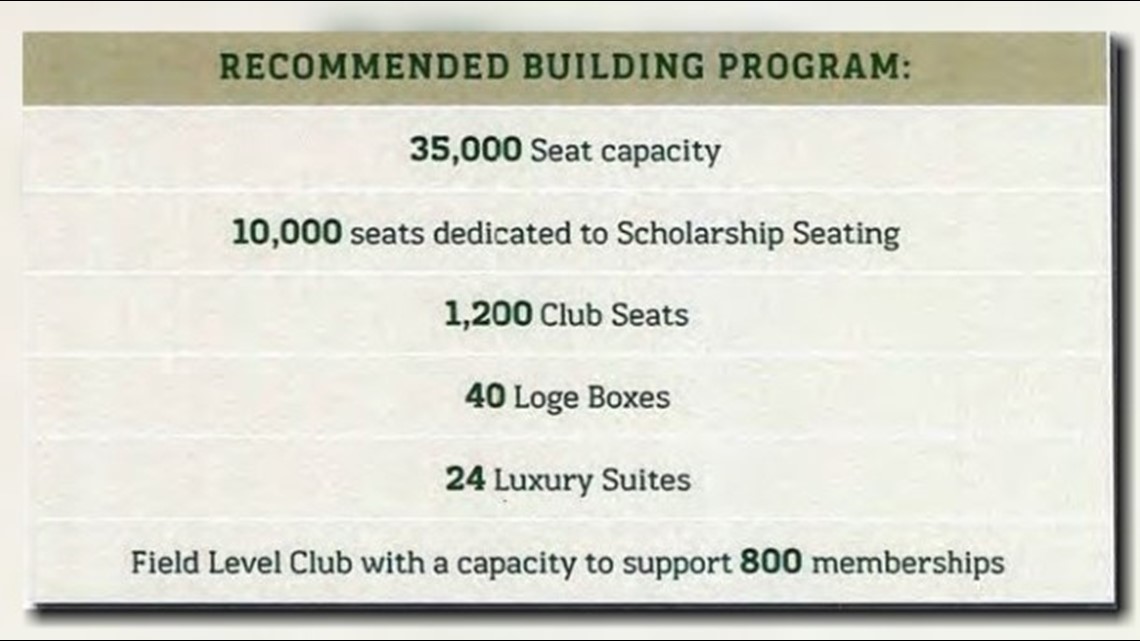 No plans to leave Raymond James Stadium
Kelly echoed the report's sentiment that Raymond James Stadium remains a quality option for USF for many more years, even though the school has to pay $400,000 to rent the facility each game and USF doesn't collect on most typical stadium-related revenues such as concessions, parking and sponsorship opportunities.
USF's typical crowds also fill just about half of the stadium, leaving a "lack of a traditional collegiate football atmosphere," according to the report. The 10-mile drive across Tampa presents an additional challenge to many students who might otherwise attend more games.
But Raymond James Stadium provides both fans NFL-quality amenities, which Kelly says they aren't anxious to give up unless a new stadium is comparable. And the home of the Buccaneers still provides benefits while recruiting.
"To walk on the same field that a Super Bowl has been played on and a College Football Playoff championship game has been played on," Kelly said, "still (provides) a bit of a 'wow factor,' no question.
"Raymond James does not have a problem with recruiting...in fact, we're recruiting very well. What we need...is to build the USF Football Center on-campus for (players') training and lifestyle."
Football Center first, then new revenues, then stadium
Kelly says football players would "basically spend every waking moment" at the Football Center, from practice to academic support to meals. The school is currently fundraising for the center.
But the new athletic director acknowledges a new stadium with a $240 million price tag would require significantly more fundraising, and he said Monday his plan is a long-term one to grow the fan base.
Kelly wants Tampa Bay residents to think of the Bulls as "their team," the same way they do of the Bucs, Lightning, and Rays; or, how many Florida residents think of the Gators, even if they didn't attend the University of Florida.
10Investigates has documented years' worth of the department's struggles to fundraise from boosters, sell tickets, and cover the cost of its growing athletics budget.
While the CSL International report suggested a new on-campus stadium could increase attendance by 50 percent and create $10 million a year in new revenues, a $240 million stadium would require significantly larger bond payments each year.
Schools would typically look to booster donations to make up the difference, but USF's track record on athletics fundraising has been poor. The study says fewer than 1 percent of USF alumni have ever donated to the athletics program. The report also warns that some new stadium-related donations could also come at the expense of other USF fundraising efforts.
USF could also benefit from conference realignment, which could depend on the success of its football program -- another reason Kelly and the university talk about the importance of completing the Football Center.
Where would it go?
If USF decides to move forward with a new football stadium, there are several potential on-campus locations that CSL International had studied in Phase 1 of the stadium study, initially presented a year ago.
Read the report: