ST. PETERSBURG, Fla. – The Tampa Bay Rays had the second lowest home attendance for the 2018 MLB regular season.
An average of 14,259 fans per game attended the team's 81 home games at Tropicana Field this season. Tropicana Field has a capacity of 31,042 fans with the upper seats tarped and closed off.
The Rays (90-72) had a total home attendance of 1,154,973 fans during the 2018 regular season, according to Baseball Reference.
This season marked the first time since 2014 that the Rays did not finish last in MLB home attendance. However, 2018 marked the fourth consecutive season the Rays finished last in regular season home attendance among American League teams.
During their home games at Tropicana Field in previous seasons, the Rays averaged:
• 15,633 fans per game (1,188,091 fans) in 2017*
• 15,879 fans per game (1,286,163 total home attendance) in 2016
• 15,322 fans per game (1,287,054 total home attendance) in 2015
Note: The asterisk indicates the Rays played three fewer home games at Tropicana Field in 2017. Hurricane Irma forced the Rays to move their three-game series against the New York Yankees on Sept. 11-13, 2017.
Chart: Tampa Bay Rays home attendance season-by-season
The Miami Marlins finished last in the league in home attendance this season with 811,104 fans going through the turnstiles at Marlins Park and an average of 10,014 fans per game. The stadium – which was built ahead of the 2012 season – has a capacity of 36,742 fans.
The Atlanta Braves – the team with the newest stadium in baseball – finished with the 11th highest home attendance in baseball this season with 2,55,781 fans and about 31,553 fans per game. SunTrust Park was built ahead of the 2017 season and has a capacity of 41,000 fans.
The Rays have until January 2019 to cut a deal in Tampa before their window to negotiate out of their St. Petersburg contract closes. The Rays announced publicly they prefer to play in Tampa over St. Petersburg. The team is hoping to have a new stadium open by the start of the 2023 season, but questions remain for how a new stadium in Ybor City would be financed.
The Tampa Bay Rays are purchasing the Tampa Bay Rowdies soccer club, as well as the team's control of Al Lang Stadium on the St. Petersburg waterfront.
The news was confirmed to 10Investigates by officials at St. Petersburg City Hall.
Timeline: Tampa Bay Rays' stadium saga
Chart: Lowest MLB regular season home attendance in 2018
The Los Angeles Dodgers finished first overall in attendance with 3,809,684 fans, which is an average of about 47,033 fans per game. The Yankees finished first in the American League with 3,482,855 fans and about 42,988 fans per game.
The Rays missed the playoffs for a fifth consecutive season. However, Tampa Bay had its first winning season since 2013.
Home of the Rays: Tropicana Field through the years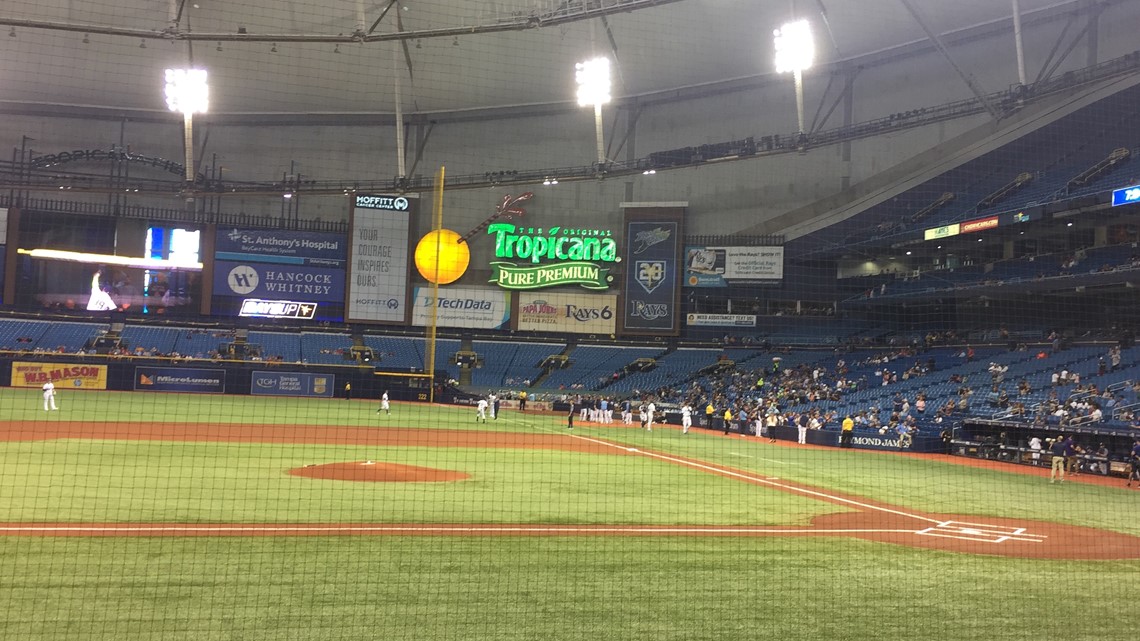 Photos: Tropicana Field through the years
Last year: Tampa Bay Rays finish last in MLB home attendance for 3rd consecutive season
Mark Bergin is a journalist with 10News WTSP. Like him on Facebook and follow him on Twitter and Instagram. You can also email him at mbergin@wtsp.com.
Jillian Olsen is a researcher with 10News WTSP. Follow her on Twitter or email her at jolsen1@wtsp.com.
►Make it easy to keep up-to-date with more stories like this. Download the 10News app now.
Have a news tip? Email desk@wtsp.com, or visit our Facebook page or Twitter feed.