ST. PETERSBURG, Fla. — Ian once again became a hurricane Thursday evening as it emerged over the Atlantic. It left catastrophic storm surge, winds and flooding over the Florida peninsula in its wake, the National Hurricane Center said.
As of the 11 p.m. advisory, Hurricane Ian was located about 185 miles south of Charleston, South Carolina, with a north-northeast movement at 10 mph. Maximum sustained winds are 80 mph.
The NHC is expecting Ian to take a turn toward north-northwest with an increase in speed Friday. The storm will approach the coast of South Carolina on Friday, with the center moving farther inland across the Carolinas the same night and into Saturday.
The storm could slightly strengthen before landfall but is also forecasted to rapidly weaken over the southeastern U.S. late Friday, NHC reports.
Ian made originally landfall as a Category 4 storm around 3:05 p.m. Wednesday along the southwestern coast of Florida near Cayo Costa, the NHC said. It had maximum sustained winds of 150 mph, with even higher gusts.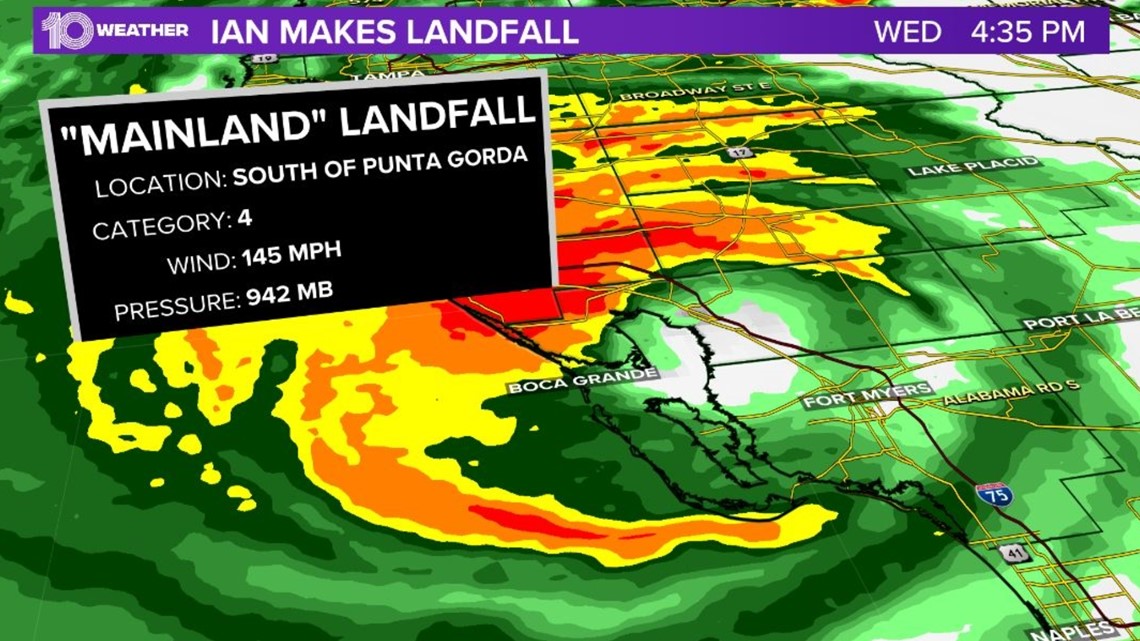 At 4:35 p.m. Wednesday, Ian made a second landfall — a mainland landfall — south of Punta Gorda as a Category 4 storm packing 145-mph winds.
10 Tampa Bay is keeping you ahead of the storm: Download our free mobile app for real-time storm information and breaking alerts, and download 10 Tampa Bay+ on your Fire TV or Roku devices to stream live coverage.
Flagler/Volusia Line to Cape Fear
Neuse River
St. Johns River
Savannah River to Cape Fear
Flagler/Volusia County Line to Savannah River
Cape Fear to Duck North Carolina
Pamlico Sound
North of Cape Fear to Duck North Carolina
Pamlico River
Cape Fear River
East of Cape Fear to Surf City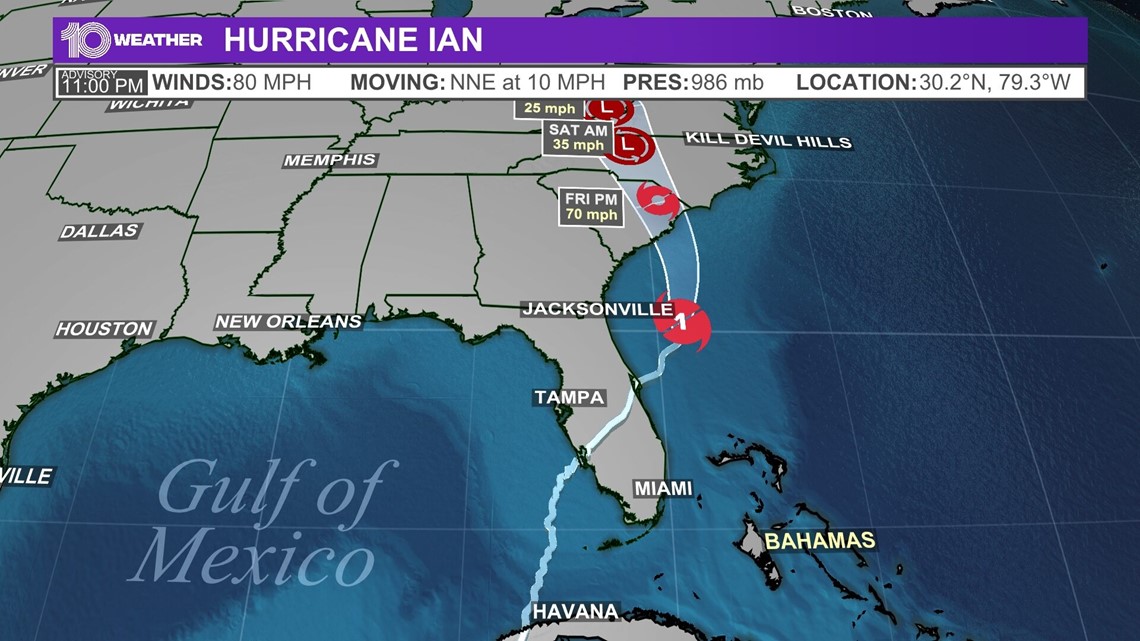 See the National Hurricane Center's "cone of uncertainty" above. It represents the probable track of the center of a tropical cyclone — note that impacts from a tropical system do occur away from the center and outside the cone.