Drug pipeline: I-75 runs through 3 places in Florida with the most fentanyl deaths
Law enforcement has known for years that this interstate is a cross-country drug trafficking pipeline from Michigan to Florida.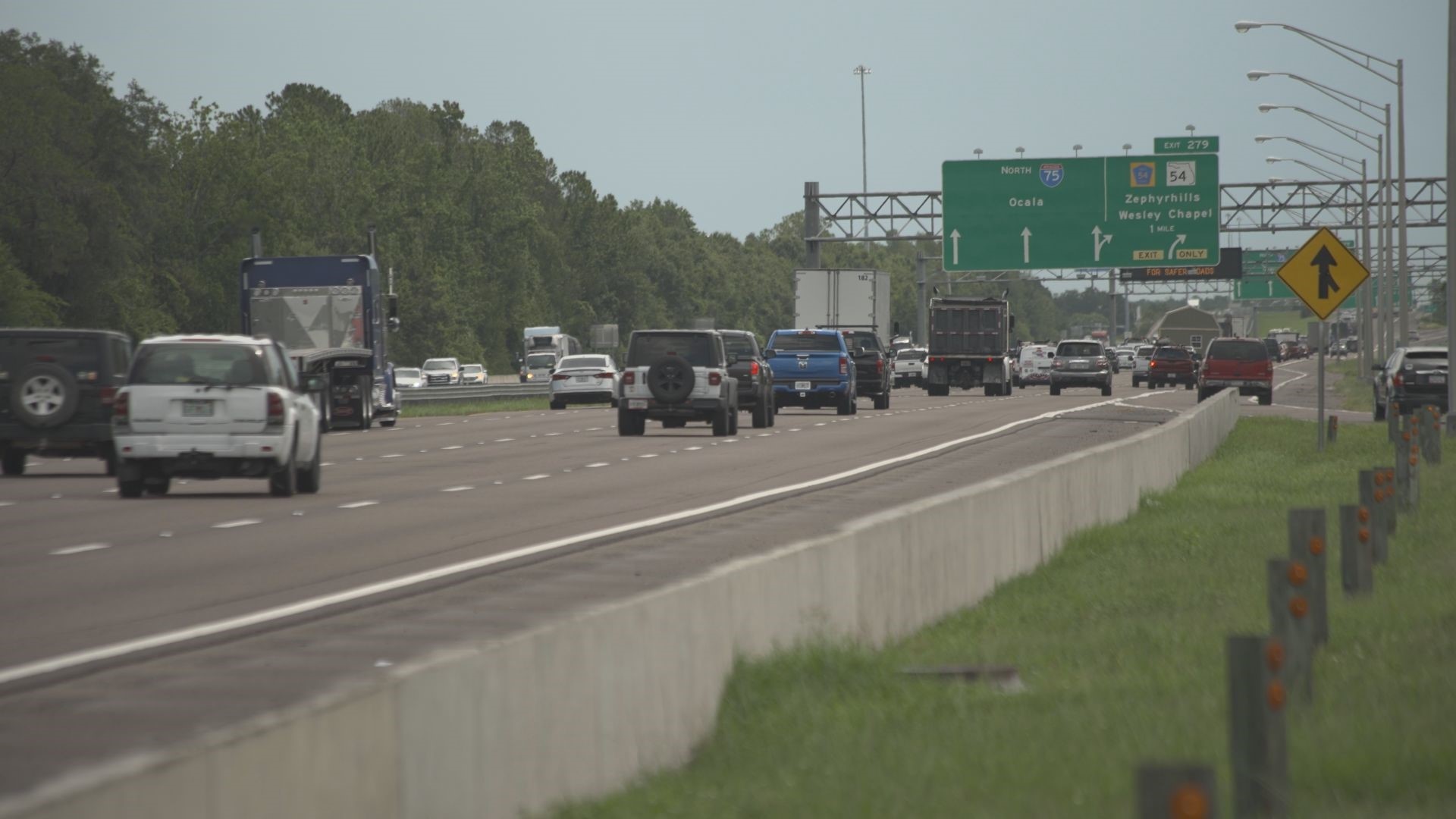 "What's in your pants right here?" an Ohio State Highway Patrol trooper can be heard asking in an April body camera recording.
Troopers were patting down a man who they had pulled over on Interstate 75.
"Dude, it's sewn into his underwear," another trooper said.
Law enforcement has known for years that this interstate is a cross-country drug trafficking pipeline from Michigan to Florida.
Now 10 Investigates has found that I-75 runs through the three places in Florida with the most fentanyl deaths.
Two of them are right here in the Tampa Bay area.
"He was trying to self-medicate."
:
Mother shares grief over losing son to accidental fentanyl overdose
We met up with Kathy Fooshee at a skate park in Tampa.
"We're meeting at a skate park because that's the one thing I think [my son] Nick loved to do, almost more than anything," Fooshee said. "He loved to be outdoors. He'd much rather be outdoors than inside."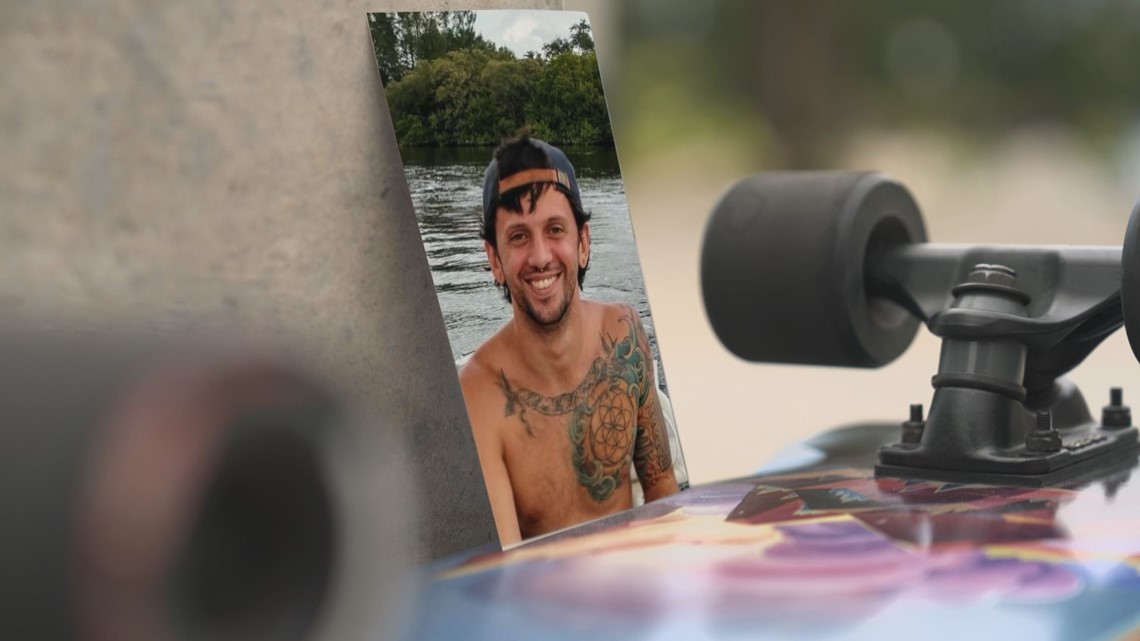 In 2019, she found her son Nick Malamatos dead in her home. He was holding a needle.
"I believe Nick had some mental health issues and, to me, he was trying to self-medicate," Fooshee said.
"When I got the coroner's report, the autopsy report, it said 'accidental overdose due to fentanyl,'" Fooshee said. "There still is a stigma out there, especially with drug addicts. Some people assume that they're from broken homes, bad families, bad upbringings. …There's a lot of addiction out there that – they come from good homes. …We live in a good neighborhood. And that doesn't matter."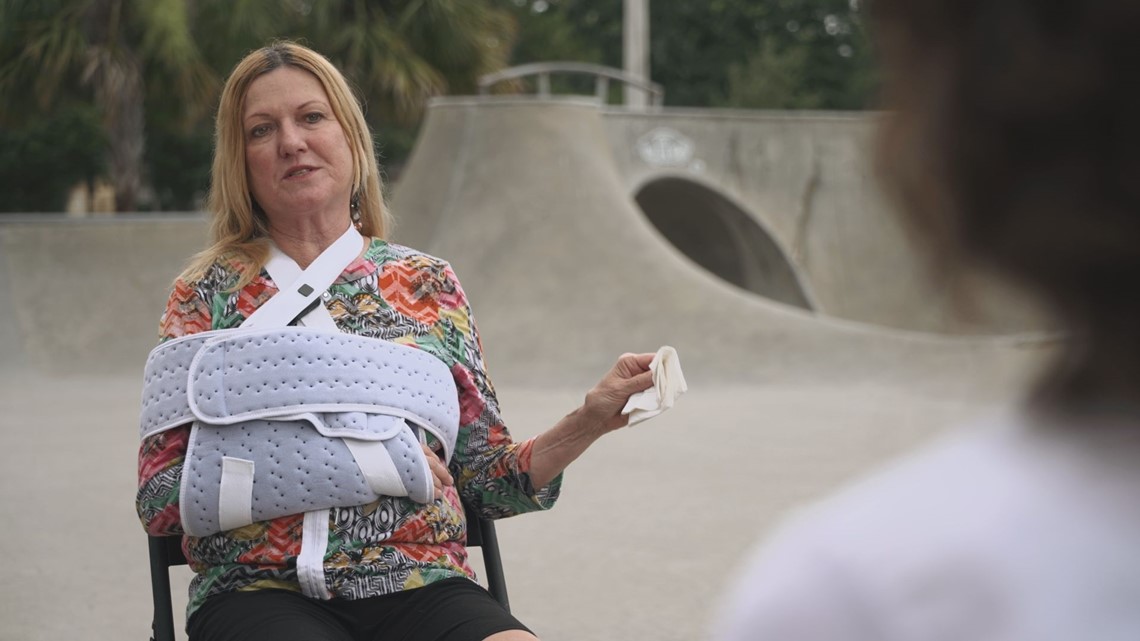 How does fentanyl get into our communities?
:
How technology is helping authorities track fentanyl
Over the past year, 10 Investigates has been looking into different ways fentanyl gets into our country and our communities.
The technology is similar to what your bag goes through at the airport but for scanning trucks.
"We need something that can penetrate steel and look inside. This high energy, we can see what's inside," U.S. Customs and Border Protection Assistant Port Director Javier Vasquez told 10 Investigates reporter Jennifer Titus.
"The chemicals are derived from China, shipped into Mexico, where the laboratories are then producing what we see is straight fentanyl powder, and/or a lot of what we're starting to see are pressed pills," Drug Enforcement Agency Special Agent Mike Furgason said. "We see them come from areas along the border because it's easily brought into the United States from across the U.S. border and then shipped throughout the United States."
Trafficking fentanyl on I-75
:
"We need to stop the flow."
Fentanyl is also trafficked through literal traffic on I-75. The highway connects six states, from Michigan to Florida.
Through Detroit, Cincinnati, Knoxville, Atlanta, Tampa, and ending in Fort Lauderdale – I-75 has long been known to law enforcement as a pipeline for drug trafficking.
Officers used to find a lot of heroin. Now fentanyl flows through it.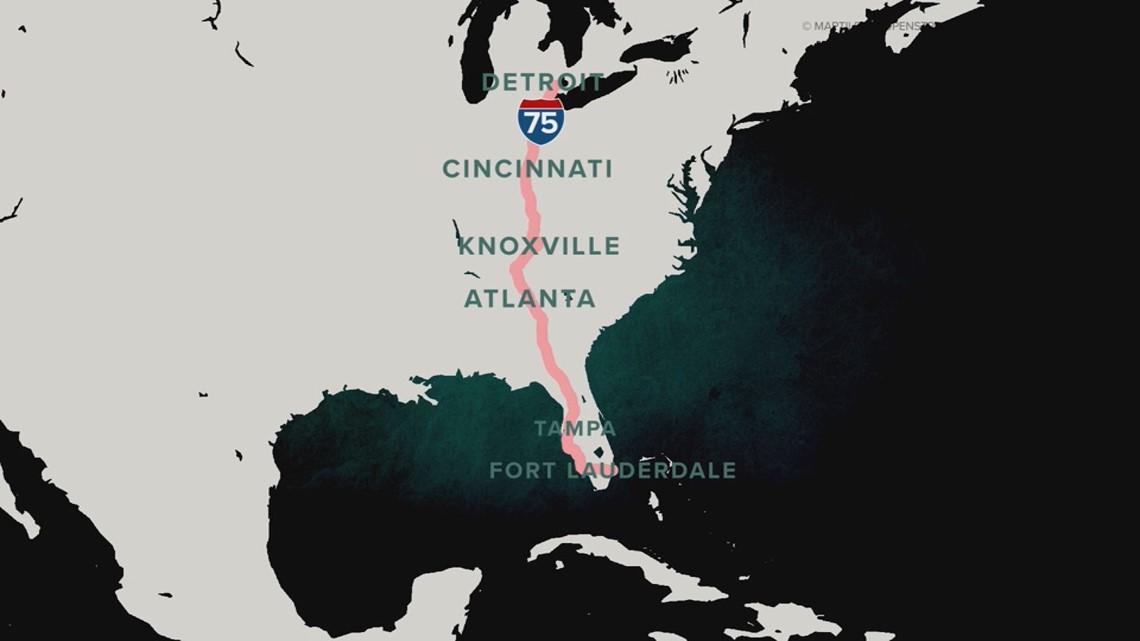 "We knew here in Knoxville — law enforcement knew that a large portion of our drugs were coming from that Detroit area," Knox County District Attorney General Charme Allen said.
For the past eight months, law enforcement in Tennessee has been targeting people from Detroit who they say are using I-75 to traffic drugs into the Knoxville area.
They're calling it the 313 Initiative, named after Detroit's area code.
"It's kind of like all we have right now is a band-aid. And we need, like, a tourniquet to put on this problem. We need to, like, cut it off. We need to stop the flow," Fooshee said.
Although some state agencies, like Ohio State Highway Patrol, track their fentanyl busts along I-75, Florida Highway Patrol does not.
FHP doesn't even track how much fentanyl they bust across the state. Their drug data lumps fentanyl into the category called "Other."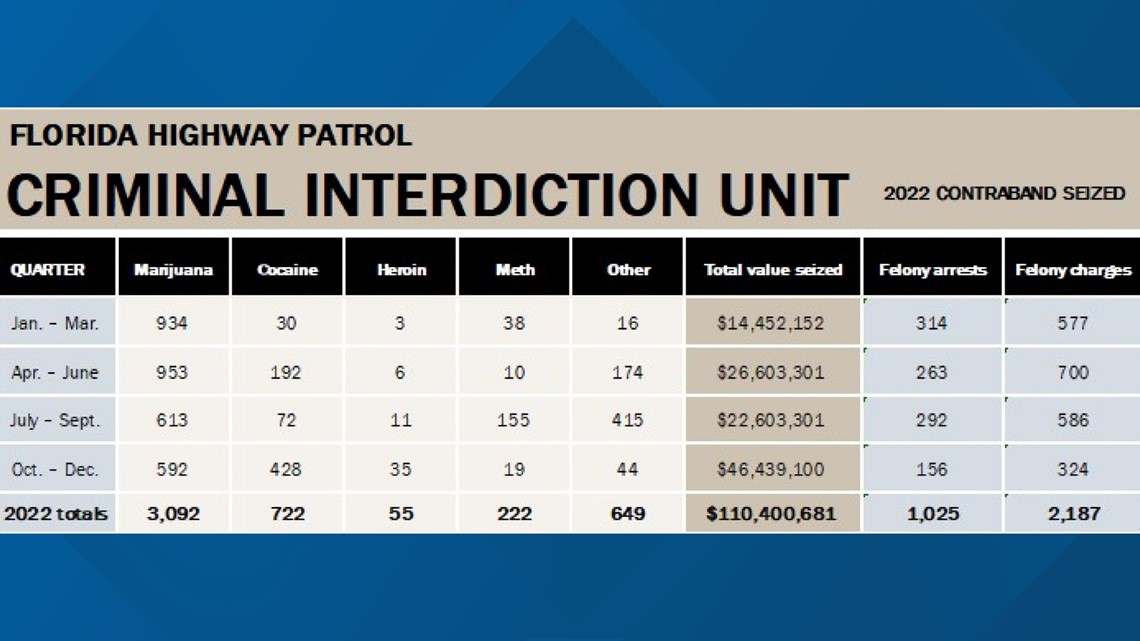 So, it's hard to say exactly how much fentanyl Florida troopers are finding on I-75 or anywhere else.
What we do know is that more people are dying in Florida from fentanyl than any other drug.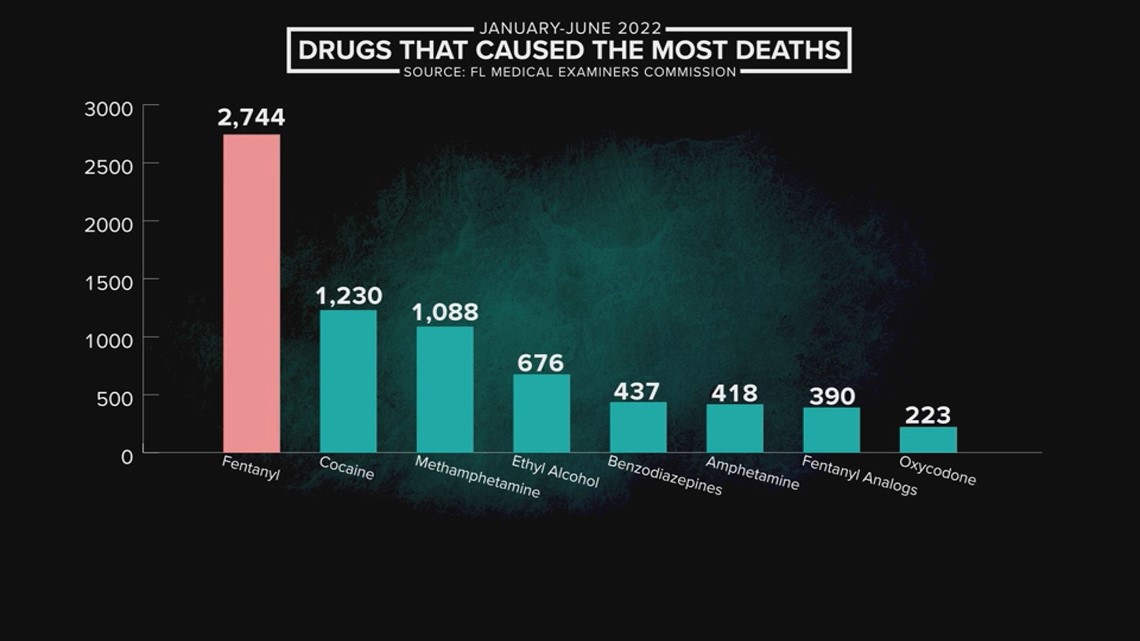 Connecting the dots between I-75 and Florida fentanyl deaths
:
The Tampa Bay area has 2 of the Top 3 areas where fentanyl deaths are highest
This includes people who died because of fentanyl plus people who had fentanyl in their systems when they died, but their cause of death was something else.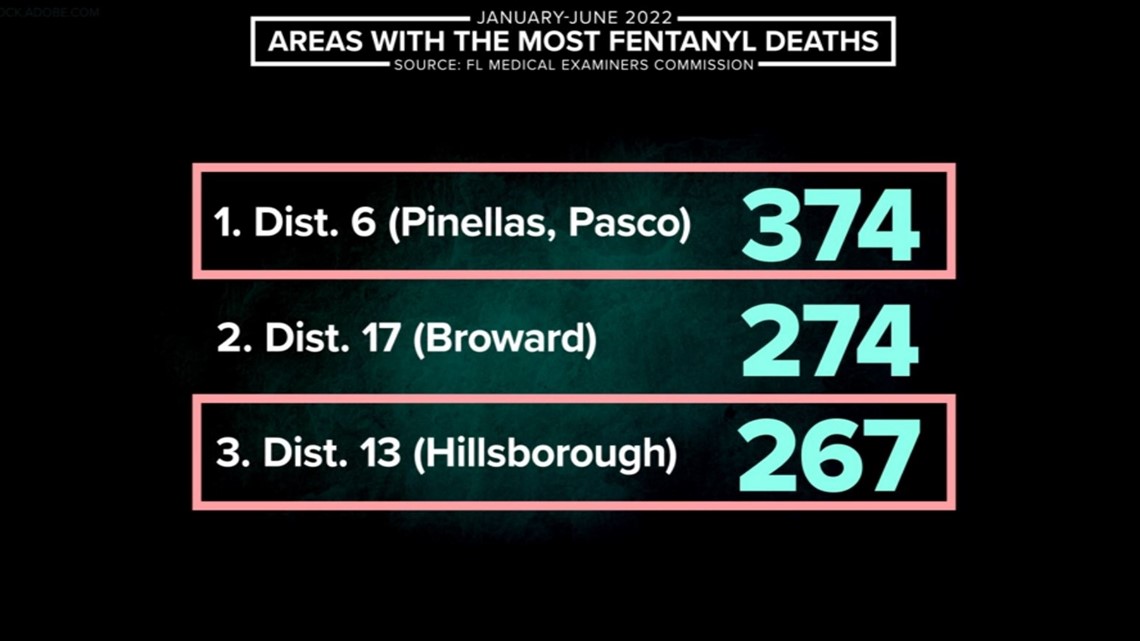 Number one for fentanyl deaths is Medical Examiner District 6, which covers Pinellas and Pasco counties. Second is District 17, which is Broward County.
Number three brings it back to the Bay area: District 13, which is Hillsborough County.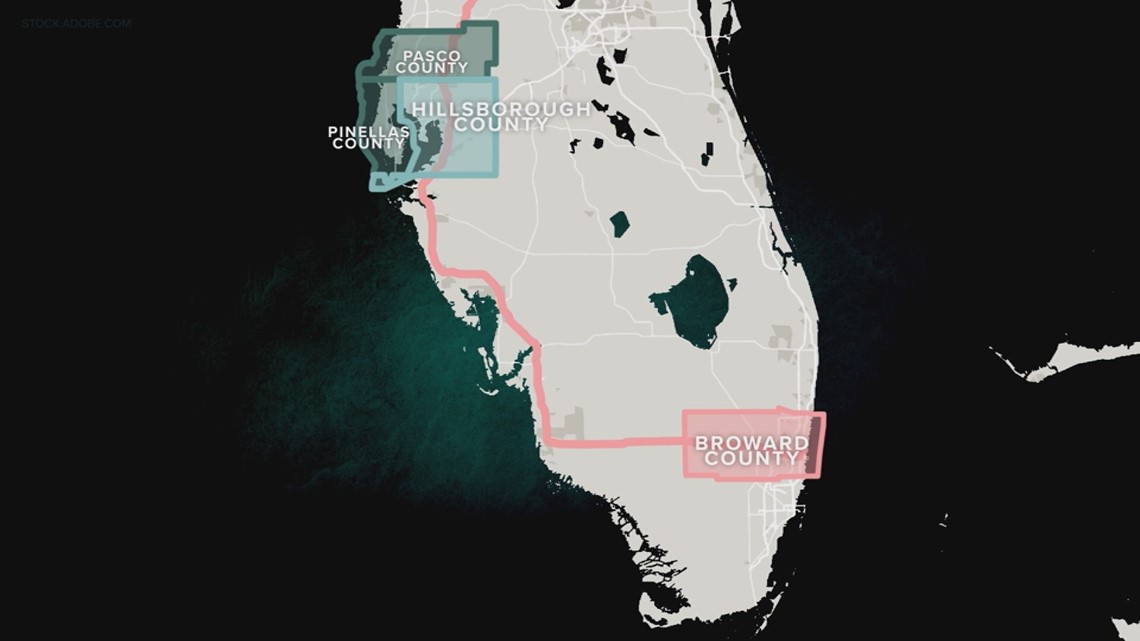 10 Investigates went to the number one area with the most fentanyl deaths to find out what they are doing about it.
At the Pasco Sheriff's Office, Narcotics K-9 Flash and his handler Deputy Anthony Kasperitis are part of the Highway Interdiction Team, known as HIT.
"HIT's primary goal with the sheriff's office is to disrupt the flow of illegal narcotics," Kasperitis said.
He said fentanyl has changed how HIT deputies are able to use K-9s. They've stopped letting their K-9s go into a car after they've sniffed and alerted. They're worried the dogs will overdose.
"I don't want to run the risk of my dog putting his nose on it," Kasperitis said. "He's my buddy. He's my buddy 24/7. I spend more time with him than I spend with my family."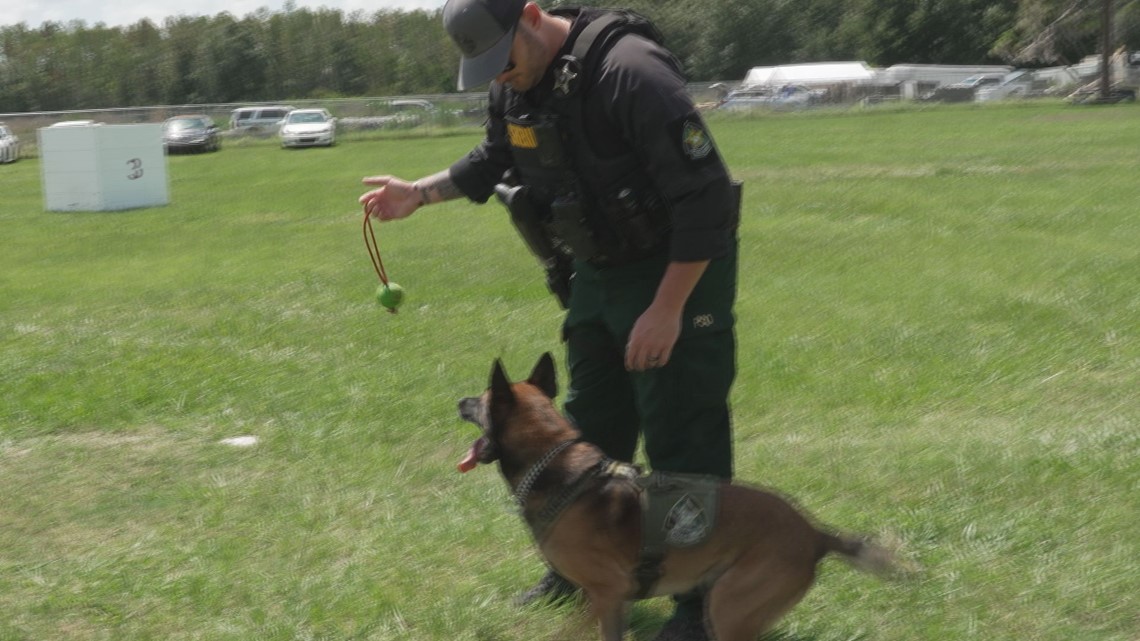 HIT Deputy James Dunn said his team encounters fentanyl on a daily basis.
"It affects everyone's lives. Most of the crime we have within Pasco County is because of drugs. You have these people that use the drugs, and they have to have a way to fund their drug habit, so they go out and commit other crimes. So, it affects every single neighborhood," Dunn said.
These drugs don't stay on the highway. They wind up in our communities and in our loved ones' hands.
"Unfortunately, Nick was incarcerated quite a bit, in jail. So, whenever a special occasion came up, he would have somebody that was an artist in the jail with him draw something special. 'Happy birthday, mom,'" she said, holding up a hand-drawn card. "He'd send me those and he'd have a handwritten note with it… A lot of people are dying, just like Nick died, because their drug of choice was laced with fentanyl and they didn't know it."
You can also see all of 10 Tampa Bay's in-depth reporting on the fentanyl epidemic in our series, "Overdosed." These stories explore possible solutions like drug testing strips, safe places to use, and tougher prosecution for those who deal deadly drugs.