Erased: The fight to restore Tampa Bay area's destroyed Black cemeteries
10 Investigates takes you through the three-year journey to find, uncover and restore these desecrated and erased cemeteries.

For three years, archaeologists have been digging to shine a light on some of the Tampa Bay area's darkest secrets. So far, they have found hundreds of graves from destroyed African American cemeteries buried under schools, apartments and business properties.

Vestiges of racial segregation, the destruction of these sacred spaces are reminders of a time laws and policies across the U.S. separated whites and Blacks in life and death.
As one site prepares to unveil a historical marker honoring the erased history, 10 Investigates takes a look at the discoveries archaeologists have made over the years that have captured the attention of the area and the nation — discoveries too important to ignore.
This report is a summation and compilation of three years of coverage. You'll find interviews and information from 2019 to today.
A 30-minute special video report accompanies this piece. You can find a complete list of stories at wtsp.com/erased.
Toward Zion
:

Zion (n.) /ˈzīən/ (Oxford Languages dictionaries)

1. The hill of Jerusalem on which the city of David was built.
2. (in Christian thought) the heavenly city or kingdom of heaven.

The etymology of Zion shows the careful consideration businessman Richard Doby took in naming the historic cemetery he established for African Americans living under Jim Crow rule in Tampa in 1901.
It was a place of reverence and great hope, even in death.
Death records suggest that for a short window in Tampa's history, more than 700 people were laid to rest at Zion.
However, the cemetery would not survive.
"Beginning in 1903, JJ Head, who was a Confederate veteran, and was actually the property tax collector for Hillsborough County, tried to place a tax claim on Zion Cemetery to get the property, even though the owners of the property couldn't owe taxes because they were exempt under cemetery status," said Eric Prendergast, an archaeologist with Stantec (formerly Cardno).
The cemetery was eventually split across three different parcels of property and redeveloped.
More than 100 years later, archaeologists found nearly 300 graves from Zion Cemetery under the Robles Park Village public housing development, an adjacent business property and towing lot.
The discoveries were based on work from Ray Reed, a former Hillsborough County researcher who had been researching death certificates from the area. He said he kept coming across Zion Cemetery — a cemetery nowhere to be found on modern records.
His research sparked a 2019 Tampa Bay Times investigation that led the Tampa Housing Authority to hire archaeologists for a search with ground-penetrating radar and later with archaeological digs.
This investigation and search for Zion sparked massive interest and triggered searches for other destroyed cemeteries across the area. Media outlets locally and nationally began to cover the cascade of stories stemming from these searches in hopes of illuminating what has been erased as descendant communities fought to restore what was lost.

"A lot of the reasons of why Zion was erased was because of pressure from gentrification," said Stantec archaeologist Rebecca O'Sullivan. "The property was stolen by eminent domain to make Robles Park Apartments...Robles Park was a segregated housing development for only White people. And so, it just shows that at all these different points in the past, Black people in Tampa weren't given a fair shake."
The Zion Preservation and Maintenance Society nonprofit was created in wake of the discoveries to help restore the land but today is having trouble. While the Tampa Housing Authority has agreed to turn over its land containing graves, the other two property owners have made no such commitments.
"We're sort of in a deadlock right now, and we've been that way for a couple of years," said Fred Hearns, president of the Zion board. "So far, nobody is taking the bull by the horns who has the authority to do so."
A school board's search
:

A few months after the searches for Zion began, Hillsborough County Schools' announced they'd have a search of their own.
Reed had also come forward to them with information that suggested a cemetery at King High School. In October 2019 at district headquarters, school board members told the media they planned to hire GeoView to use radars to scan for graves.
Those crews found 145 graves from Ridgewood Cemetery in a field at King High School.

Records show the city of Tampa bought the property in the 1930s for a pauper's cemetery. The school district purchased the land in 1959 and built King High School in 1960.
Research from death certificates suggests more than 250 people may have been buried at the site at one point. School district officials said the discrepancy between burial records and radar results could result from the large number of infants buried in the cemetery. Experts say their tiny coffins may have deteriorated so much they'd be hard to find on radar.
"We intend to show the highest levels of respect for the individuals who may be buried in this cemetery and their descendants. We will provide updates as we have more information," the district said in a statement to 10 Tampa Bay in 2019.
Tampa Bay History Center's Fred Hearns, who is also president of the Zion board, has pushed the district to include the history of Ridgewood, its erasure and more African American history in the district's curriculum.
Clearwater's concerns
:

Across the bay in Clearwater, more graves have been discovered.
"This is by far the most troubling issue or set of circumstances that I've dealt with ever, frankly, in my career," Clearwater City Manager Jon Jennings told 10 Investigates in September.
He had just learned of an additional 258 graves from the Matthews Baptist Church Cemetery at the FrankCrum property, a business located on Missouri Avenue. Including the previous testing, this brought the total number of discoveries at the site to 328. Archaeologists also found graves along the road.
"Somewhere along the way, someone had to know something," said Zebbie Atkinson IV, president of the Clearwater/Upper Pinellas NAACP.

Atkinson raised the grave concerns to the city of Clearwater and to the owners at FrankCrum after members of Clearwater's Black community came forward about possible graves on the site.
"Now's the time. It is time for the reckoning," said Barbara Sorey-Love, who grew up in the area.
Records show the St. Matthews Baptist Church cemetery was established in 1909 and operated through the 1940s. That's when the city of Clearwater decided the cemetery was "inadequate" and established the North Greenwood Cemetery a few miles away.
In 1954, the city taxed the church more than $1,500 for road improvements. In 1955, church trustees sold the land to developers for $15,000. Historians say they could not afford the taxes and upkeep.
Two years later, developers flipped the land for $110,000. That's more than a million in today's world.
The property continued to change hands so much through time that today's owners say they knew nothing about graves on the site.
"We were not aware of that when we bought the property," FrankCrum co-president Matt Crum told 10 Investigates in 2021. "I think we all recognize that, you know, something happened back in the fifties and the fact that remains were left here is an injustice. And, you know, I think everybody wants to make that right and try to handle that appropriately."
"Tear it down"
:

Less than two miles away, a vacant school holds more secrets.
"I have a great memory, and I thank God for it," said O'Neal Larkin Jr.
At 82-years-old, Larkin says his memory is as sharp as it was when he was 16.
"I don't exaggerate what I know," he said.
And Larkin knows the history of the vacant Curtis Fundamental School at Holt Ave. and Engman Street in Clearwater.
"I would bet my life that there are human remains here," he said.
On Dec. 11, 2019, 10 Investigates reported a possible cemetery at the school. The very next day, Pinellas County Schools showed up at the site with old maps.
"I had been made aware of this a long time ago when I started my position but was under the impression that all the bodies were moved," said Charlene Beyer, a former real estate analyst for Pinellas County Schools.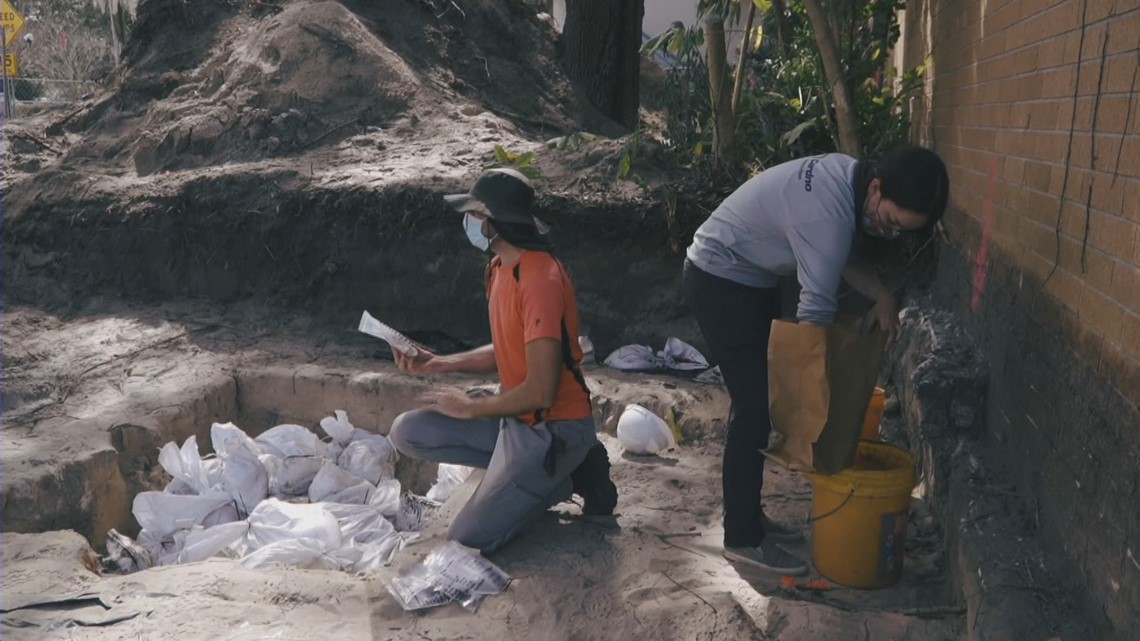 City commission minutes from 1940 show the city established the cemetery as a black-only burial ground to "be used for that purpose and no other purpose."
However, in 1948, the city sold the land that included the cemetery to Pinellas County Schools for $15,875.
By 1954, there was a new plan.
The city wanted to build an all-black swimming pool on part of the site. So, the district gave the city some of its land on the condition the city would move the graves.
"Because we had no value we could be moved," said Robert Young, who as a kid worked as a helper at the funeral home contracted to move the graves decades ago.
He did not move any graves himself but says workers may have only moved the graves with headstones.
"We were less than humans. We were property. And therefore, our cemeteries were of no value either," he said.
By 1962, Erin McKendry says the current school was built on the site within the cemetery boundary.
McKendry, archaeologist with Stantec (formerly Cardno), was hired by the city of Clearwater to search for graves on the site after our initial report.
She oversaw the project, and the archaeological work confirmed what the community already knew — that graves from what is now known as the North Greenwood Cemetery still remained.
"We would say that there's no less than 55 burials at that location," said McKendry. "...There is definitely the potential for additional burials below the building."

Larkin came to the site in 2021 as crews were performing archaeological digs.
"I happened to look to the right and I lost it. It traumatized me, because the end of that school there, was sitting on top of a coffin," he said. "How in the hell can you build a school, pour a foundation and pour the concrete and the slab on top of bodies? And you don't mention it? And you don't know it?"
As for what he's like to see happen to the property next?
"Tear this damn building down," he said. "These people here were treated violently. You understand me? Tear it down. Make it a monument."
The Clearwater Historical Society is installing a historical marker on the site on Dec. 3. Historian Allison Dolan said it is important to have something in place until the community decides on a larger memorial.
There are more
:

On top of the discoveries at Zion, St. Matthews Baptist Church, North Greenwood and King High School, there have been a number of other searches across the area.
At MacDill Air Force Base in Tampa, there have been searches for the old Port Tampa Cemetery. In St. Petersburg, crews searched a parking lot at Tropicana Field for Oaklawn Cemetery. It served mostly white residents.
But two adjacent cemeteries, Evergreen and Moffett/St. Petersburg cemeteries, served African Americans. Maps suggest those graves would be under the nearby interstate today.
Archaeologists said in a report that construction workers found bones while constructing the interstate in the 1970s.